Office 410 m2, Zimeysa, Satigny **360°/3D**
Ref : L589
Address :
rte de Satigny
1242 Satigny
Amenities :
Parking spot
Lift
Underground parking
Goods elevator
Hydraulic ramp
Fiber optic
View
Secured access
Rail ramp
Financial informations :
Rent
CHF 7 520

/ month

Charges
CHF 620
Details :
| | |
| --- | --- |
| Living space | 410 m² |
| Number of rooms | 8 |
| Floors number | 5 |
| Number of toilets | 2 |
Beautiful bright office, well equipped, oriented to the west and north, with great views to the countryside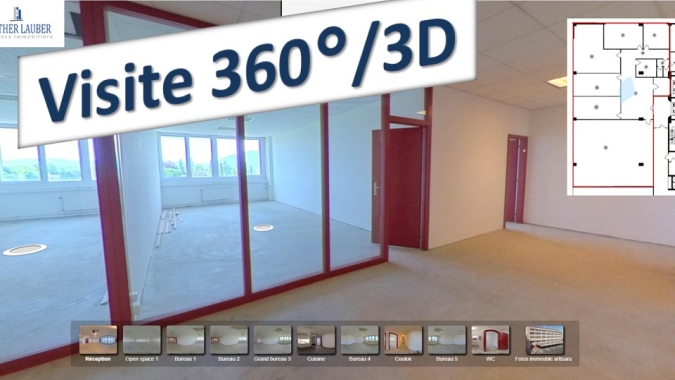 Click on the picture to start the interactiv virtual tour 360°/3D, please.
Interior
Reception
Large open-plan office
6 separate offices
Utility room
2 WC
Kitchen
Facilities
Sockets and telephone
Electrical blinds
Hanging ceiling with integrated lighting
Coatings for carpets and floor tiles
Building
Commercial building
loading dock with hydraulic ramp
4 good elevators
2 elevators
Secured entrances at night and on weekends
Parking
Outside parkings and underground parkings are available for rent
Location


Source: search.map.ch
ZIMEYSA (Zone Industriel de Meyrin Satigny), near motorway and city
Public transports
6 minutes walk to the busstop Zimeysa ouest: bus no 71 direction Satigny station (travel time 5 minutes)
6 minutes walk (500 m)to the busstop Moulière: bus no 73 direction Vernier with connections to bus no 56 to the aerport and to the hospital La Tour and no 57 to the aerport and to Meyrin railstation and Meyrin village
12 minutes walk to the busstop Bergère: bus no 56 to the aerport and to the hospital La Tour and no 57 to the aerport and to Meyrin railstation and Meyrin
Zimeysa gare (railstation): 14 minutes walk, trains to Geneva, Satigny and La Plaine
Private traffic
5 minutes to the motorway
10 minutes to the city of Geneva
10 minutes to the aerport
Conditions
Indexed lease contract for 5 years, contract must be approved by FTI, ready to move in quickly as agreed
Miscellaneous
Ideal for craft, offices or computer sciences
Video
Youtube 360°/3D: Video Youtube
Contact and visit
For further information and a visit, please contact us, phone 022 300 06 74 or e-mail.
List is not exhaustive - more offers.
This list is not exhaustive. Call us and tell us your criteria or subscribe to our e-mail-alert and get immediately the new offers before the publication in the media as well as our off-market offers.