Commercial premise 109.5 m2, upstairs, Zimeysa, Meyrin-Satigny, Geneva, **360°/3D**
Ref : L647
Address :
1242 Satigny

Availability date : 01 August 2021
Financial informations :
Rent
CHF 1 645

/ month

Charges
CHF 185
Details :
| | |
| --- | --- |
| Living space | 110 m² |
| Number of rooms | 1 |
| Floor | 3 |
| Floors number | 5 |
Ideal local craftsmanship without nuisance, flooring and finishes at tenant's choice, agricultural view

Please click on the picture to begin the interactive immersiv virutal tour 360°/3D.
Commercial premise
Large open space
Building
Commercial Building
Building with fiber optics
Loading ramp with lift (load 4 t)
4 goods elevators (capacity 4 t, dimensions 2.19 m x 3.17 m, hight 2.5 m
Secured entrances at night and on weekends
Parkings
Parking space in underground or outside available.
Location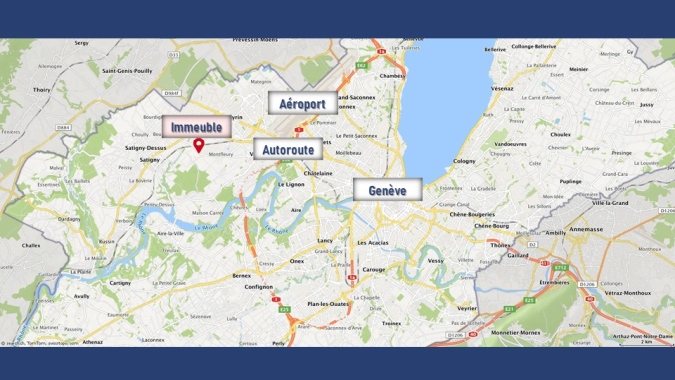 source: map.search.ch

ZIMEYSA (Zone Industriel de Meyrin Satigny), near motorway and city, 400 m from the bus stop bus no 54 for station Zimeysa with connections to the buses no 56 for aérport and hospital and no 57 for aérport and Meyrin village
Diverses
Ceiling height 2.88 m, floor load 1000 kg/m2, access to 4 freight elevators
Conditions
Indexed lease contract for 5 years, contract must be approved by FTI
Information on commercial leases
For further information about comercial space rental in Geneva : Le bail à loyer commercial à Genève
Contact and visit
For further information and a visit, please contact us, phone 022 300 06 74 or e-mail.
List is not exhaustive - more offers.
This list is not exhaustive. Call us and tell us your criteria or subscribe to our e-mail-alert and get immediately the new offers before the publication in the media as well as our off-market offers.